Eddie Forouzan - Visiting Scholar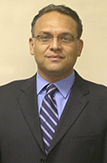 B.A. Skidmore College, Saratoga Springs, N.Y. (1988)
M.A., Polymer Chem., Clark University, (1992)
Ph.D., Electrochemistry, Clark University, (1994)

Email: ef@artinengineering.com

Dr. Eddie (Fardad) Forouzan has over 20 years of experience in research and development, product commercialization, general management, quality, engineering, and consulting. His areas of expertise include development of new, safe and reliable energy systems for consumer applications and high volume production. He is academically trained electrochemist who has completed his postdoctoral training under the direction of Dr. Allen Bard at the University of Texas in Austin in the early 1990s.

Since 2009, he has headed ARTIN Engineering and Consulting Group, which specializes in testing and certification of consumer products for the purpose of energy system safety. This includes, but is not limited to, the cells, battery packs, adapters and complete host devices. ARTIN Engineering also provides field failure analysis services whereby the root cause of energy system failures in the field are determined.

Dr. Forouzan's previous experiences include operations, manufacturing, quality assurance, and engineering management positions at multibillion dollar corporations as well as experience with photovoltaic and photoelectrochemical devices based on InP, TiO2, CdTe, CdSe, CdS and GaAs. He is presently active in the Bard Group as a Visiting Research Fellow and focuses on Solar Energy.

Publications and Presentations:

F. Forouzan

,

Allen J. Bard, Michael Mirkin, "The Adsorption Kinetics and Self-Assembly of n-Alkanethiol Monolayers on Gold" Isr. J. Chem., 37, (1997) 155.

F. Forouzan

, Allen J. Bard, "Evidence for Faradaic Processes in Scanning Probe Microscopy on Mica in Humid Air" J. Phys. Chem., 101, (1997) 10876.

F. Forouzan

, Thomas C. Richards, Allen J. Bard, "Photoinduced Reactions at TiO2-Photodeposition of Ni" J. Phys. Chem., 100, (1996) 18123.