Stephen Percival- Postdoctoral Fellow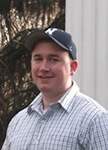 Ph.D., Chemistry, University of Washington, Seattle (2015)
Email:
spercival@utexas.edu
Stephen J. Percival got his start as an undergraduate at the University of Nevada, Reno and graduated from the University of Washington under Associate Professor Bo Zhang's guidance with his Ph.D. in 2015. While at UW he did research on a wide array of topics but focused mainly on electrocatalysis, nanoscale electrochemistry and fundamental properties of various nanomaterials, such as nanoparticles and nanowires. In the lab of Professor Allen J. Bard, his research will mainly focus on new highly sensitive nanoparticle detection and analysis methods. Outside of the lab, Stephen enjoys reading, playing basketball, hiking, and spending time outdoors with his wife Tara.
Publications and Presentations:
Percival S. J.

; Zhang, B. "Fast-Scan Cyclic Voltammetry Allows Determination of Electron-Transfer Kinetic Constants in Single Nanoparticle Collision" J. Phys. Chem. C 2016 DOI: 10.1021/acs.jpcc.5b11330.

Percival S. J.

; Zhang, B. "Growth of Thick Films of Platinum Oxide on Nanoelectrodes at Relatively Low Anodic Potentials." Langmuir 2014, 30, 11235-11242.
Guo, Z.;

Percival S. J.

; Zhang, B. "Chemically Resolved Transient Collision Events of Single Electrocatalytic Nanoparticles." J. Am. Chem. Soc. 2014, 136, 8879-8882.

Percival S. J.

; Vartanian, N. E.; Zhang, B. "Laser-Pulled Ultralong Metal Nanowires." RSC Adv. 2014, 4, 10491-10498.

Percival S. J.

; Zhang, B. "Electrocatalytic Reduction of Oxygen at Single Platinum Nanowires." J. Phys. Chem. C, 2013, 117, 13928-13935.
Guerrette, J. P.;

Percival S. J.

; Zhang, B. "Fluorescence Coupling for Direct Imaging of Electrocatalytic Heterogeneity." J. Am. Chem. Soc. 2013, 135, 855-861.

Percival S. J.

; Zhang, B. "Single Nanoparticle Electrocatalysis on Nanoscale Electrodes" March 2014, Pittsburgh National Conference, Chicago, IL.

Percival S. J.

; Zhang, B. "Electrocatalysis on Nanoscale Materials" May 2014, Research Seminar, Department of Chemistry, University of Nevada, Reno.